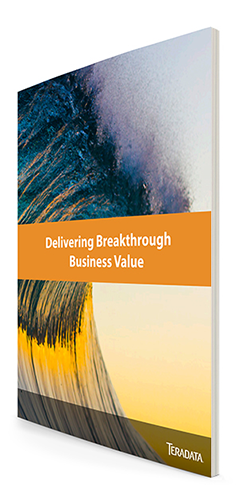 Analytic solutions are delivering breakthrough business results across all industries. Whether companies need to improve profitability, mitigate risk, innovate products, enhance the customer experience, or achieve other business objectives, analytics paves the way to success. A new Teradata brochure, "Delivering Breakthrough Business Value," explains how data analytics can lead to high-impact outcomes. Teradata solutions enable data insights that improve businesses processes, solve pain points, and identify new opportunities.
Teradata Can Help Your Business:
Change how you store, manage, and analyze data for greater agility

Unleash the breakthrough value hidden in your data with analytics at scale

Turn the cloud, mobile technologies, and the Internet of Things into strategic assets

Leverage increasing volumes of big data to gain differentiated value

Learn how organizations benefited from analytics through use cases
Download the brochure to learn how Teradata can turn complex and challenging data sets into high-value assets for your business.